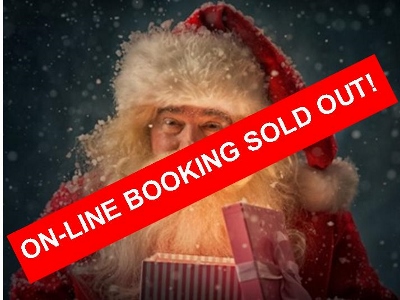 WE ARE SORRY BUT ALL ON LINE TICKET SLOTS FOR SANTA'S GROTTO ARE NOW SOLD OUT!
But don't despair! IN STORE tickets will be available to purchase for these days!
Grotto Entry £8.50 per child
These tickets must be purchased in store on the day you wish to visit Santa and are sold on a first come first served basis. With this in mind, we recommend you get here for 9.00am (or 9.30am on Christmas Eve) to purchase your ticket. These tickets are valid only for the day of visit and cannot be reserved or pre-booked.
Santa's Grotto is open:-
Wednesday 20th, Thursday 21st & Friday 22nd December 11.00am – 3.00pm
Saturday 23rd December 10.40am – 4.20pm
Christmas Eve 10.40am – 3.00pm
Your personal visit to Santa includes:-
* A gift from Santa
* A bag of chocolate coins
* A real life miniature Christmas Tree
* A visit to see Santa's reindeer
* A child's hot chocolate, topped with cream & marshmallows, served in the Restaurant@Poplars
* A no obligation photo opportunity