Monthly Gardening Advice – May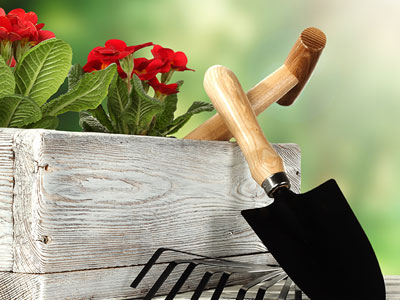 MAY
Lawncare
Mow the lawn weekly and remember to add the clippings to your compost heap.
Continue to apply a high nitrogen liquid fertiliser to keep the lawn looking healthy.
Edge the lawn to create a 'gutter' around the lawn edge (this stops the lawn from growing into the border).
Ensure new lawns from seed or turf do not dry out.
If you have a problem with moss and weeds apply a combined moss and weed killer.
Houseplant Care
Increase the watering and begin liquid feeding.
Clean shiny leaved plants with a damp cloth and spiky plants with a soft brush.
Make sure houseplants get plenty of fresh air.
Move plants like citrus and cymbidiums outside on warm days and bring in if a chilly night is forecast.
Apply shade paint to the outside of the greenhouse glass or use blinds on sunny days to prevent temperatures soaring.
Jobs To Do In The Garden
Plant out summer bedding at the end of the month once frosts have cleared.
Hoe borders and beds to stop weed growth.
Divide cottage garden plants such as hosta and primrose.
Lift and divide overcrowded bulbs like daffodils.
Mulch around shrubs, roses and trees to help prevent moisture loss and suppress weeds.
Thin out outdoor sown hardy annuals.
Prune spring flowering shrubs once they have finished flowering (forsythia, spiraea, berberis and ribes)
Sweet peas can be trained onto their supports to create a good display.
Continue to plant container grown plants.
Dead-head pansies, violas and primulas.
Put supports in place for your cottage garden plants before they get too big.
Clip evergreen hedges if not too woody, shredded clippings can be added to compost heap (remember to check for nesting birds).
Tie in climbers.
Make sure tubs, hanging baskets and troughs are well watered. Use collected rainwater, or recycled grey water whenever possible.
Check for first signs of blackspot, aphid and rolling sawfly on roses and treat with a suitable pest and disease control.
Jobs To Do In The Greenhouse
Keep the temperature in the greenhouse at 5°C for fuchsia and geraniums and a warmer 12°C for topical plants.
Remember to ventilate greenhouse on sunny days and on the warmest days you may need to damp the floor down to increase the humidity.
Check seedlings for damping off, which can be a problem under glass (if it becomes a problem treat with 'Cheshunt Compound).
Give plants more space as they grow to help avoid pest infestations.
Soft tip Fuchsia cuttings can be taken this month.
Greenhouse bulbs that have finished flowering can be given a high potash feed (Tomorite) to help build the bulb up for next season.
Warm up cold grow-bags before planting tomatoes, cucumbers and peppers by putting then in-situ.
Harden off half-hardy annuals, which have been started undercover and need acclimatise to the outside environment over a period of a week or so ready for planting in their final position.
Used shade paint on outside of greenhouse or blinds to stop temperatures soaring.
The Vegetable Garden
Earth up potatoes and promptly plant any still remaining.
Once the risk of frost has gone plant out tomatoes, courgettes and pumpkins, which have been grown undercover, they will need to acclimatise to the cooler outdoor environment.
Liquid feed plants regularly that grow in containers.
Net fruit and vegetable plants to keep birds off.
Sow melons in a heated propagator.
Protect brassicas from pigeons.
Put up codling moth traps.
Protect carrots with enviromesh to stop damage from carrot root fly
Make sure bees have access to flowers in cloches and cages for pollination.
Continue to prepare seedbeds and cover with fleece or polythene to warm the soil before planting.
Continue to harvest asparagus, spring onions, spring cabbage, radishes, salad leaves, spring cauliflower and leeks.
Protect flowers from possible late frosts.
Keep on top of weed control to help stop the spread of pest and disease.
Thin raspberry, gooseberries plants and de-blossom strawberry runners planted in spring.
Wildlife & Bird Care
Put up nesting boxes for migrant birds arriving in the UK.
Put up bat nesting boxes.
Keep birdbaths topped up with water.
Mow recently established perennial meadows but not annual cornfield meadows.
Put out log and/ or rock piles to create areas of shelter for wildlife
Avoid chunky foods that could choke young fledglings.
Hang a bee-nesting box.
Sow or plant a wildflower meadow.
Make sure you pond is more wildlife friendly (by planting around the pond and creating a shallow edge so wildlife can access the pond safely).
Leave informal hedges untrimmed for a while to provide food and shelter.
Any Other Advice
Collect grey water for watering containers and baskets.
If the weather warms up you may need to raise the cutting height on the lawn mower.
Remember to support your perennial plants to stop them flopping over later in the summer
In dry spell treat timber structures and buildings (remembering to use in a well ventilated space and use an appropriate product).
Enjoy your garden and don't forget to take time and stop and stare at the wonder of nature. Happy gardening!