Monthly Gardening Advice – October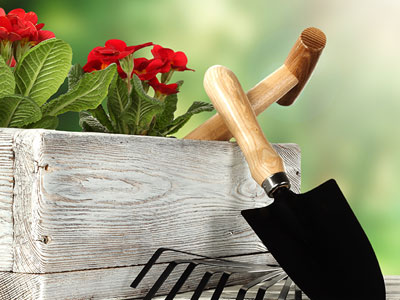 OCTOBER
Lawncare
This month is the last chance to scarify, aerate and top dress lawns.
Apply any autumn lawn feed (make sure they are low in nitrogen, so it discourages lush green growth which will be damaged by cold in winter months.
Last chance to sow grass seed (newly sown areas can be covered with polythene to protect from cold and heavy rain if forecast in your area).
Rake fallen leaves off lawns so it doesn't block out light and air to the grass.
It's now too late to apply weed killers. A final mow will help keep weeds in check until the Spring.
Renovate old lawns or create new area of grass by laying turf.
Houseplant Care
Reduce watering of houseplants as light levels drop.
Pot up prepared hyacinth for Christmas or New Year.
Stand tropical plants on trays of dampened gravel to help create a humid environment, grouping plants together will also help create a humid microclimate.
When you start to bring plants back indoors check them for pest and disease.
Plant up hippeastrum (amaryllis) bulbs and prepared hyacinths for Christmas displays.
Jobs To Do In The Garden
Start planting hedging and think about moving plants and trees in the garden next month.
Last chance to trim deciduous hedges to keep them looking tidy until the spring.
Divide herbaceous plants to keep vigour and create more plants.
Plant spring flowering bulbs and wallflowers.
Make sure early flowering shrubs like camellia and rhododendron are well watered during dry periods to ensure good flower bud development.
Good hygiene around the garden like removing leaf litter to stop the build-up of pest and disease.
Take hardwood cuttings of rosa, salix, forsythia and cornus.
Prune climbing roses.
Cut back taller perennials like Asters to stop them breaking in the wind.
Plant new herbaceous perennials.
Cut back perennials that have died down
Allow the first frost to blacken foliage on dahlias and cannas before lifting and storing tubers.
Don't neglect hanging baskets and containers – deadhead, feed and water and once they are past their best replant with ivy, pansy, heather, and spring bulbs.
Jobs To Do In The Greenhouse
Remove shade paint from glass to allow maximum light levels into greenhouse through the winter months.
Start insulating greenhouse with bubble wrap.
Check heaters are still working.
Regularly inspect plants for pest and disease.
Don't forget ventilation may be required in the warm autumn days.
Move tender plants into the greenhouse and check for pest & disease.
Check forced bulbs for top growth – if growth is visible bring into a cool well lit room to induce flowering.
The Vegetable Garden
Move citrus to frost free glass and reduce watering.
Now is the time to sow broad beans in situ in colder areas – fleece or cloche to provide insulation as well as protecting from pigeons.
Carrots and peas can be sown in cold frames (milder areas only).
Plant spring cabbage.
Plant garlic cloves.
Dig vacant areas so the colder weather may help to improve soil structure.
Dig up outdoor tomatoes and hang upside down in the greenhouse to allow fruit to ripen. Any that do not ripen can be used green in chutney.
Take cuttings of blueberries, currants and gooseberries.
Continue to harvest pumpkins and squashes, runner beans, carrots, beetroot, apples, pears and melons.
Check stored apples regularly
Control winter moths with grease bands.
Divide rhubarb.
Wildlife & Bird Care
Leave some seed heads and rose hips to provide food and shelter for wildlife.
Clean out birdbaths.
Keep birdbaths topped up.
Refill bird feeders, all feeds including peanuts are safe as the breeding season is now over.
Start building hedgehog hibernation box.
Plant perennials to help attract insects.
Leave mature ivy uncut if possible to provide an excellent source of nectar for insects.
Make a leaf pile for hibernating mammals and ground feeding birds.
Any Other Advice
Make sure tree ties are secure for the autumn and winter weather.
Order seeds for next year.
Clean out cold frames, so they are ready for autumn.
Dig bare patches of earth or newly cultivated land to expose many pest larvae and eggs to birds and frost.
Place mouse controls near your stored fruit and vegetables (follow manufacturer's instructions).
Enjoy your garden and don't forget to take time and stop and stare at the wonder of nature. Happy gardening!