Children's Wheelbarrow Competition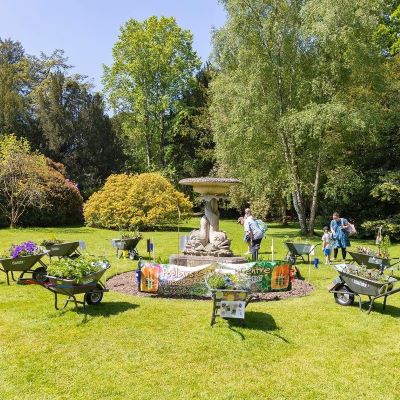 Back at the beginning of June, we were very proud to sponsor the Swiss Garden Wheelbarrow Garden competition for lower and primary schools in Central Bedfordshire. The competition was launched in 2020, with nineteen schools signing up to take part. But sadly, due to the pandemic, the competition was unable to go ahead.
Even though the schools were just getting back into the swing of things after having been closed for so long, nine schools signed up to take part this year. We had the easy job of providing the wheelbarrows and the compost. It was then down to the schools to design their mini gardens in a wheelbarrow with a wildlife theme. 
Visitors to the Swiss Garden at Shuttleworth then had the very difficult task of picking a winner. A total of 1690 votes were cast over the Whitsun holiday and the worthy winners were St. Augustine's Academy! Second place went to Thomas Whitehead Academy and Totternhoe CE Academy took third place.
Photo courtesy of Darren Harbar Photography.