The History of Poplars
Over 120 years ago Jesse Little left his job as foreman in charge of growing grapes at Thomas Rochfords nursery near Cheshunt and bought a piece of land at Leagrave, which was then a village several miles from Luton.
He built a new glasshouse nursery on land where Nappsbury Road now stands and grew tomatoes, cucumbers and chrysanthemums. He prospered becoming chairman of Biscot Parish Council and then an alderman of the Borough of Luton. As his sons came of age he built a new nursery for each of them, one of them here at Toddington on 13 acres of land he bought for £650 in 1924.
Sidney Little, his eldest son, was put in charge of the new nursery and grew the first crops in 1926 making a profit of  £343-5s-9d. The nursery employed four men each earning a little over £2 per week. By the Second World War the nursery had expanded to one and a half acres of glasshouses, heated by seven boilers. The labour force had grown to seven but wages were still below £3 a week.
In 1965 Jesse's grandson John joined the business, fresh from obtaining a degree in Horticultural Science from the University of Reading. The nursery was looking tired and after the disastrous failure of a new heating system the decision was taken in 1968 to change the focus of the business and open a Garden Centre.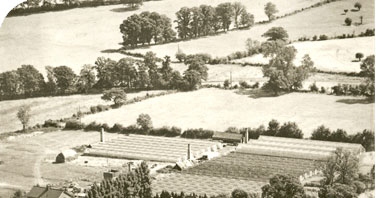 The first shop was a converted glasshouse of just 550 sq ft, then three of the old cucumber houses were roofed over to give 2000 sq ft of shop. With the building of Milton Keynes a second hand wide span glasshouse became available and this was used to create a 6000 sq ft shop and part of that building remains in use today.
By 1988 further building had increased the shop to 8000 sq ft when on the Saturday before Easter a terrible fire destroyed half of the shop and all the offices. Amazingly the business survived and turnover in fact equaled the previous year.
In 1989 building began on new premises to replace and extend what had been burnt and to make room for Poplars Pantry – our first restaurant. Those buildings of about 22,000 sq ft remain in use today but with continued growth in customer numbers and ever more space required for product in 2003 it was decided to extend even further.
In March 2006 we therefore opened a spectacular new shopping area, which has been received with equal acclaim by customers and the rest of the Garden Centre industry.
In March 2010 our latest development opened where we can showcase an even greater range of garden furniture, BBQs, hot tubs & leisure accessories (From October to January this whole area is transformed into a Winter Wonderland.
In March 2016 the Restaurant at Poplars was opened. With seating for over 350 diners the new restaurant features a pizza oven and daily carvery. Scones are baked in store daily along with breakfast, lunch and afternoon teas.
Since 2009 Poplars are consistently ranked in the top ten of best UK Garden Centres, which has spurred the current management team (led by Jesse Little's great-grandson David and great-grand daughter Zoe) to strive for even higher standards.