Monthly Gardening Advice – April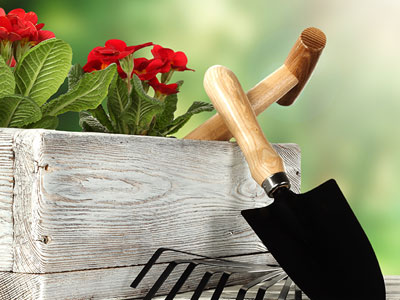 APRIL
Lawncare
Mow the lawn as required and remember to add the clippings to your compost heap. Try and mix the compost heap to stop it from turning smelly and slimy instead of good compost.
April is the best month to apply a lawn fertiliser, moss killer and weed killer.
Edge the lawn to create a 'gutter' around the lawn edge (this stops the lawn from growing into the border).
Repair humps and hollows by peeling back turf and remove or adding soil and then relay turf.
Seed or over-seed new lawns – remember to prepare the area for sowing by digging, raking levelling and firming before you sow.
Houseplant Care
Feed citrus with a high nitrogen feed.
Increase the watering and begin liquid feeding.
Good husbandry around indoor plants like removing leaf debris, removing fallen compost and cutting out dead leaves will help to prevent pests & disease spreading.
Pot up houseplants which are showing signs of being root bound and top dress large containers with fresh compost.
Jobs To Do In The Garden
Tie in climbing and rambling roses.
Feed roses, shrubs and trees (with a balanced fertiliser like Vitax Q4, Growmore or fish, blood and bone).
Mulch around shrubs, roses and trees.
Cut back cornus (dogwood), salix (willow), buddleja (butterfly bush), lavatera, perovskia, hardy fuchsia and other summer or late summer flowering deciduous shrubs.
Remove any reverted shoots (usual green) on hardy variegated plants such as euonymus and eleagnus.
Prune Spring flowering shrubs once they have finished flowering (forsythia, spiraea and ribes)
Sweet peas can be sown outside this month.
Continue to plant container grown plants.
Dead-head pansies, violas and primulas.
Put supports in place for your cottage garden plants before they get too big.
Jobs To Do In The Greenhouse
Keep the temperature in the greenhouse at 5°C for fuchsia and geraniums and a warmer 12°C for topical plants.
Remember to ventilate your greenhouse on sunny days and on the warmest days you may need to damp the flooring down to increase the humidity.
Start Cannas into growth by potting up and water sparingly. Place in a light position, increase watering as growth develops.
Begonia, gloxinia, dahlia and achimenes tubers can all be planted in trays this month before potting on once growth appears.
Continue to prick out seedlings before they get too crowded.
Look out for plug plants, which are now ready for sale. Grow on in the greenhouse, while avoiding the need for propagation facilities and labour.
Soft tip Fuchsia cutting can be taken this month.
Greenhouse bulbs that have finished flowering can be given a high potash feed (Tomorite) to help build the bulb up for next season.
Warm up grow-bags before planting tomatoes, cucumbers and peppers by putting them in situ in the glasshouse.
Sow half-hardy annuals like lobelia, petunia and marigold in seed trays or modular trays.
The Vegetable Garden
Chit and plant out second early potatoes in the first half of the month and main crop potatoes in the second half.
Prepare vegetable seed beds, and sow some vegetables under glass.
Net fruit and vegetable plants to keep birds off.
Sow outdoors beetroot, carrots, lettuce, leeks, peas and summer cauliflower.
Protect brassicas from pigeons.
Last chance to plant bare-root fruit trees and bushes.
Protect fruit blossom from late frosts – using fleece.
Continue to prepare seedbeds and cover with fleece or polythene to warm the soil before planting.
Continue to harvest spring onions, spring cabbage, un-forced rhubarb, radishes, sprouting broccoli, winter salad, spring cauliflower and leeks.
Sow marrows, courgettes, squash, tomatoes, pepper cucumbers and aubergines inside in pots for planting out later in the year.
Wildlife & Bird Care
Put out food for the hungry birds – don't forget to put some on the ground as well as the bird table.
Put up nesting boxes for birds.
Keep birdbaths topped up with water.
Clean birdbaths and tables
Put out log and/ or rock piles to create areas of shelter for wildlife
Plant annuals and cottage garden plants to attract insects
Hang a bee-nesting box
Sow or plant a wildflower meadow
Make sure your pond is more wildlife friendly (by planting around the pond and creating a shallow edge so wildlife can access the pond safely).
Put out hedgehog and badger food.
Any Other Advice
Install a water butt.
Remember to clean gutters on greenhouses and channel downpipes into water butts.
Check for rabbit damage especially on newly planted trees and shrubs and apply tree guards if necessary.
Think about connecting a second water butt to your original via a linking kit.
Enjoy your garden and don't forget to take time and stop and stare at the wonder of nature. Happy gardening!